Meatspace Press is excited to announce our fifth paperback publication Fake AI, edited by Frederike Kaltheuner. The book is available to buy now from our shop, in paperback or ebook/pdf formats.
From predicting criminality to sexual orientation, fake and deeply flawed Artificial Intelligence (AI) is rampant. Amidst this feverishly hyped atmosphere, this book interrogates the rise and fall of AI hype, pseudoscience and snake oil. Bringing together different perspectives and voices from across disciplines and countries, it draws connections between injustices inflicted by inappropriate AI. Each chapter unpacks lazy and harmful assumptions made by developers when designing AI tools and systems, and examines the existential underpinnings of the technology itself to ask: why are there so many useless, and even dangerously flawed, AI systems?
The book contains seventeen chapters charting the contemporary twists and turns of AI hype, pseudoscience and snake oil. Covering case studies ranging from automated content moderation to smart toothbrushes, and facial recognition to FinTech, the discussion draws on a diverse array of perspectives to build a picture of the banalities, particularities, benefits, and dangers of AI systems. Its contributing authors hail from a variety of backgrounds, including computer science, sociology, policy and governance, journalism, law, and more.
The book is available to buy in print and ebook formats from the Meatspace Press shop. Like all Meatspace Press publications, it is also open access and freely available to download in pdf format (see below).
Contributors (alphabetically): Razvan Amironesei, Aparna Ashok, Abeba Birhane, Crofton Black, Favour Borokini, Corinne Cath, Emily Denton, Serena Dokuaa Oduro, Alex Hanna, Adam Harvey, Fieke Jansen, Frederike Kaltheuner, Gemma Milne, Arvind Narayanan, Hilary Nicole, Ridwan Oloyede, Tulsi Parida, Aidan Peppin, Deborah Raji, Alexander Reben, Andrew Smart, Andrew Strait, James Vincent.
Design and illustration by Carlos Romo-Melgar, John Philip Sage, and Roxy Zeiher.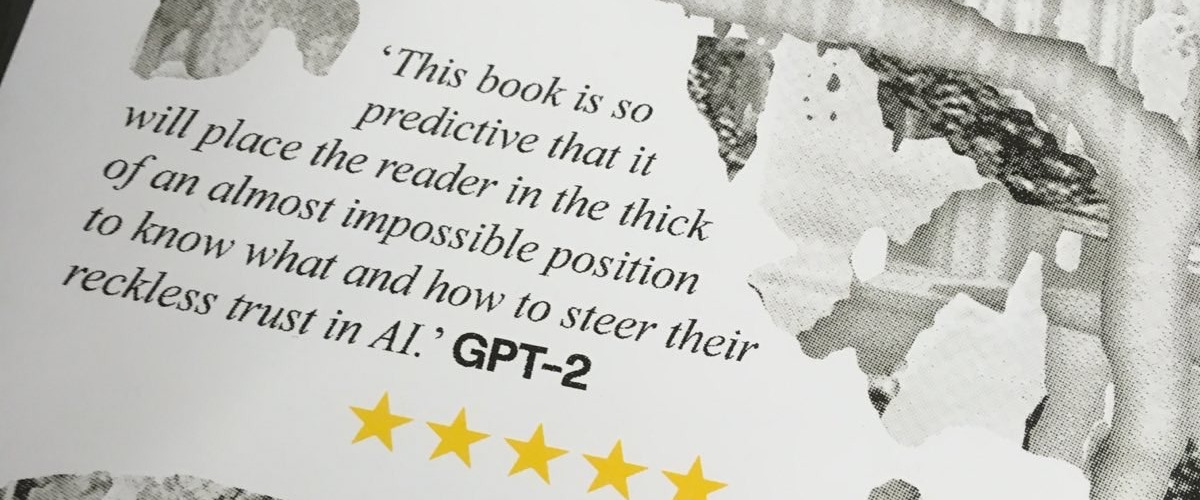 Buy:
You can buy a copy of the book (and support future Meatspace Press projects!) in our shop now. There are also a range of ebook formats available from the shop (epub, mobi, azw, etc). We also have discounts available for students and/or those on low incomes.
To celebrate the release of the book there is also a limited edition screen-printed poster available from the designers of the book, Carlos Romo-Melgar, John Philip Sage, Roxy Zeiher.
Details:
Fake AI
Edited by: Frederike Kaltheuner
Publisher: Meatspace Press (2021)
Place of publication: Manchester, United Kingdom
Weblink: meatspacepress.com
Design: Carlos Romo-Melgar, John Philip Sage, and Roxy Zeiher
Copy editors: David Sutcliffe and Katherine Waters
Format: Paperback and pdf
Length: 206 pages
Language: English
Product code: MSP112101
ISBN (paperback): 978-1-913824-02-0
ISBN (pdf, e-book): 978-1-913824-03-7
DOI: 10.58704/kcha-1h20
License: Creative Commons BY-NC-SA
Contents
This book is an intervention (Frederike Kaltheuner)
AI snake oil, pseudoscience and hype (an interview with Arvind Narayanan)
Cheap AI (Abeba Birhane)
The bodies underneath the rubble (Deborah Raji)
Who am I as data? (Frederike Kaltheuner)
The case for interpretive techniques in machine learning (Razvan Amironesei, Emily Denton, Alex Hanna, Hilary Nicole, Andrew Smart)
Do we need AI or do we need Black feminisms? A poetic guide (Serena Dokuaa Oduro)
How (not) to blog about an intelligent toothbrush (James Vincent)
Learn to take on the ceiling (Alexander Reben)
Uses (and abuses) of hype (Gemma Milne)
Talking heads (Crofton Black)
What is a face? (Adam Harvey)
Why automated content moderation won't save us (Andrew Strait)
Consolidating power in the name of progress: techno-solutionism and farmer protests in India (Tulsi Parida, Aparna Ashok)
When fintech meets 60 million unbanked citizens (Favour Borokini, Ridwan Oloyede)
Algorithmic registers and their limitations as a governance practice (Fieke Jansen, Corinne Cath)
The power of resistance: from plutonium rods to silicon chips (Aidan Peppin)
Open access:
We hope that you will support the project by buying a paperback copy or the digital download on our shop (which includes both a pdf version and a range of ebook formats). However you may also download a pdf version (22mb) via Internet Archive.